Introducing the Zopa IFISA and Zopa Core
Following on from our FCA authorisation, I wanted to write to explain what happens next and some important changes we're making to our service.
Introducing our IFISA
Pending final approval from HMRC, we're excited to announce our flexible Innovative Finance ISA (IFISA) – with target returns of up to 6.1% – will be available from 15th June.
As we expect investing volumes to be high, we're giving existing investors priority access ahead of new customers, where existing investors are those customers who have already signed up as an investor today.
Introducing Zopa Core
In addition to our IFISA, on 15th June we're excited to let you know we will also launch our newest peer-to-peer investment product: Zopa Core. Core will lend in risk markets A*-C and will, by December 2017, replace Access and Classic. As with Classic and Plus, there will be a 1% fee when selling loans.
Core will offer initial target returns of 3.9%, and will not be covered by the Safeguard fund. Classic and Access will not be available for investors currently on the waiting list or future investors, however current investors with loans in Access or Classic can continue to lend through these products until 1st December, 2017 when they will be retired.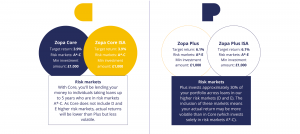 Fig 1: Zopa's new product offerings explained
Target return: Annualised projected return (capital weighted average loan interest rate minus expected principal loss and any fees)
From launch, investors will be able to send Access and / or Classic repayments into Core, and add new funds. Core, like Plus, will have a minimum investment of £1,000 to diversify your risk: this will be waived for existing customers moving their repayments across, but it's important to remember that those customers with a waived minimum will have more than 1% exposure to each borrower and will have a higher chance of losing money.
Retiring Access and Classic
We are retiring Access and Classic from 1st December 2017, which means we will no longer be originating loans with Safeguard coverage after this date. All existing Safeguarded loans will continue to receive coverage (subject to there being sufficient funds in the trust) until December 1st, 2022, by which time all Safeguarded loans will have matured.
We initially introduced Safeguard in 2013 to deal with a tax anomaly that unfairly penalised peer-to-peer lenders. The fund was designed to ensure that investors only paid taxes on the net income they received from Zopa borrowers: and not bad debt. In 2015 the tax laws were updated enabling investors to claim for relief on losses from bad debt. As a result, the primary reason for Safeguard was removed.
Last year, based on customer demand, we introduced Zopa Plus, our current product without Safeguard coverage. Plus has proven incredibly popular, and since March 2017 we have been operating a waiting list for new investors due to the very high levels of demand. Retiring Safeguard will allow us to provide greater target returns than Access or Classic (2.9% and 3.7% respectively, versus 3.9% in Core and 6.1% in Plus).
Remember: when you invest your money, your capital is at risk and is not protected by the Financial Services Compensation Scheme (FSCS). Our risk statement has all the details.
If you have any questions, please get in touch with our award-winning Investor Services team.
Andrew Lawson is Chief Product Officer at Zopa