Planning your wedding: building your budget
With the usual venue hunting, dress-shopping and cake-tasting off the menu, we asked wedding planner Lauren Goodman of Bluebird Creative for an at-home wedding planning guide to get you started
You've just got engaged, but now what? 
It's a big question and often why brides decide to come to me in the first place. However, we're now in uncharted territory because we can't meet suppliers or visit venues. But can you begin planning?
My answer is a big YES! You can totally start your wedding planning now, even when you can't really go out.
Let's start at the beginning
In the beginning
When you begin your wedding planning there are 4 things you must do before anything else! So let's walk through these briefly…..
1.Guest Numbers
Without an idea of day and evening numbers, you won't know which venues to approach. It's also crucial to have guest numbers so that when you are doing your budget, you can work out if it's realistic or not. This can always be tweaked, but it is the number one place to start with your wedding planning.
2. Budget
In my mind your budget is THE most important part of your wedding planning. Without it you're basically planning blind! Think of it as your guide. It'll help keep your stress levels in check if you know what you're working with, instead of just seeing the costs rising and not knowing where they'll stop! I'm going to delve into this a little bit more shortly.
3. Location
The exact location will depend on venues and availability, but you need some sort of idea of where you would like to marry. Do you want to get married abroad? (If so, where takes your fancy?) Or do you want to stay close to home? Perhaps you want elderly relatives who can't travel far to be able to attend your wedding. Or do you want a wedding a few hours a way, so you can make a weekend of it? 
4. Date
I don't mean picking an actual date, but having an idea of when is a good start. Perhaps you know you want to marry in October, because that's when you first met? Or you want a summer wedding and are open to anything between May and September. If you work in a school, it may need to be the school holidays. 
Let's Talk Budgets
My favourite topic to discuss and educate my brides on is the budget!
Let's break it down. 
The way I explain budgeting to brides is in a two part process:
Working out YOUR budget 
The Split
YOUR budget
So let's talk about working out YOUR budget. It's absolutely crucial you know this number, otherwise you'll overspend. Sit down with your partner and discuss what you have to put towards your wedding. 
Consider all the places money might come from. Perhaps you have savings, or your parents or other family members want to gift you money towards your wedding. You may decide that you want to wait 18 months so you can save. If that is the case, you'll need to work out what you can both save realistically each month and add that up to the total months you will be planning. Or perhaps you'll look into taking out a small loan to top up your budget. 
Whatever choice you make, it needs to be right for you, affordable and realistic.
The Split
This is where I start throwing around percentages! Using YOUR budget, you should create a spreadsheet to input the different types of suppliers involved in wedding planning and the percentage to allocate towards each supplier.
My formula goes as follows: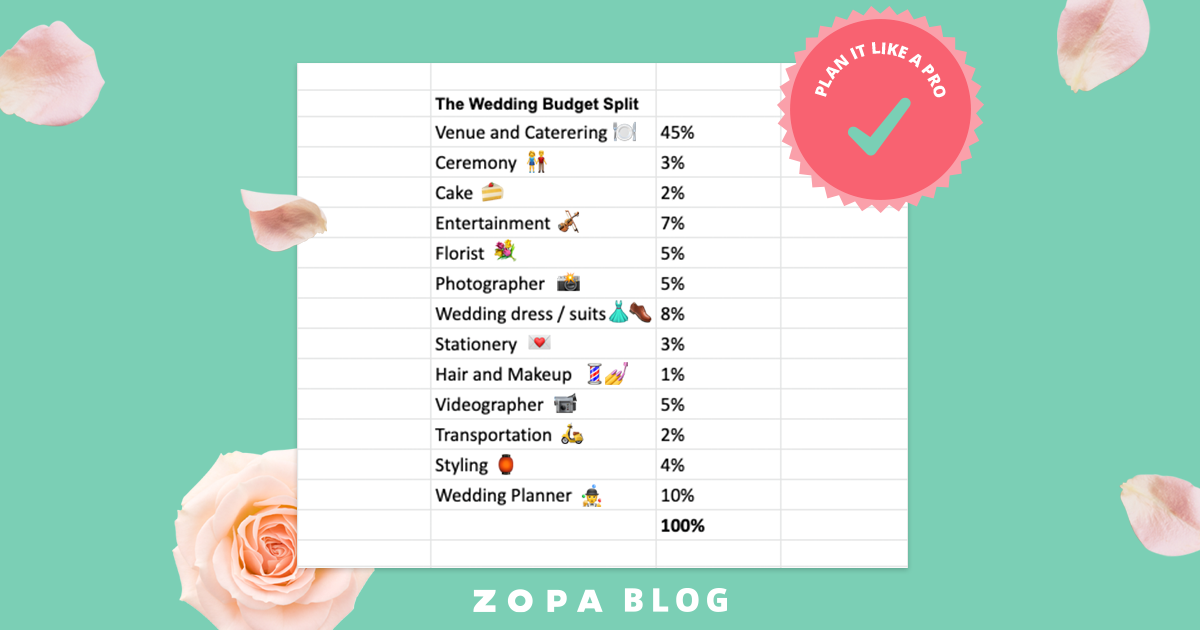 By using this formula, you can work out how much you can put towards each type of supplier. 
Now you can tweak what you want to spend. If you're a big foodie, you may want to up this area. If you don't plan on having any transport, then you can remove this and reallocate. It's your budget (however I would advise not taking away from venue and catering).
Budget sorted? Then it's time to move on to part two of your at-home wedding planning: the virtual venue search.