Home Improvement Index - DIY ROI
Us Brits love our homes, we consider them to be our castles and the main asset we own. We also love the odd bit of DIY, although most of us would probably admit that we are less handy in reality. With the housing market currently adding huge amounts to the value of homes across the country, at Zopa, we thought it would be good to show which area of your home can provide the most return on investment (ROI) and add the most value to your property.
Full details are included in our DIY ROI graphic and home improvement index below.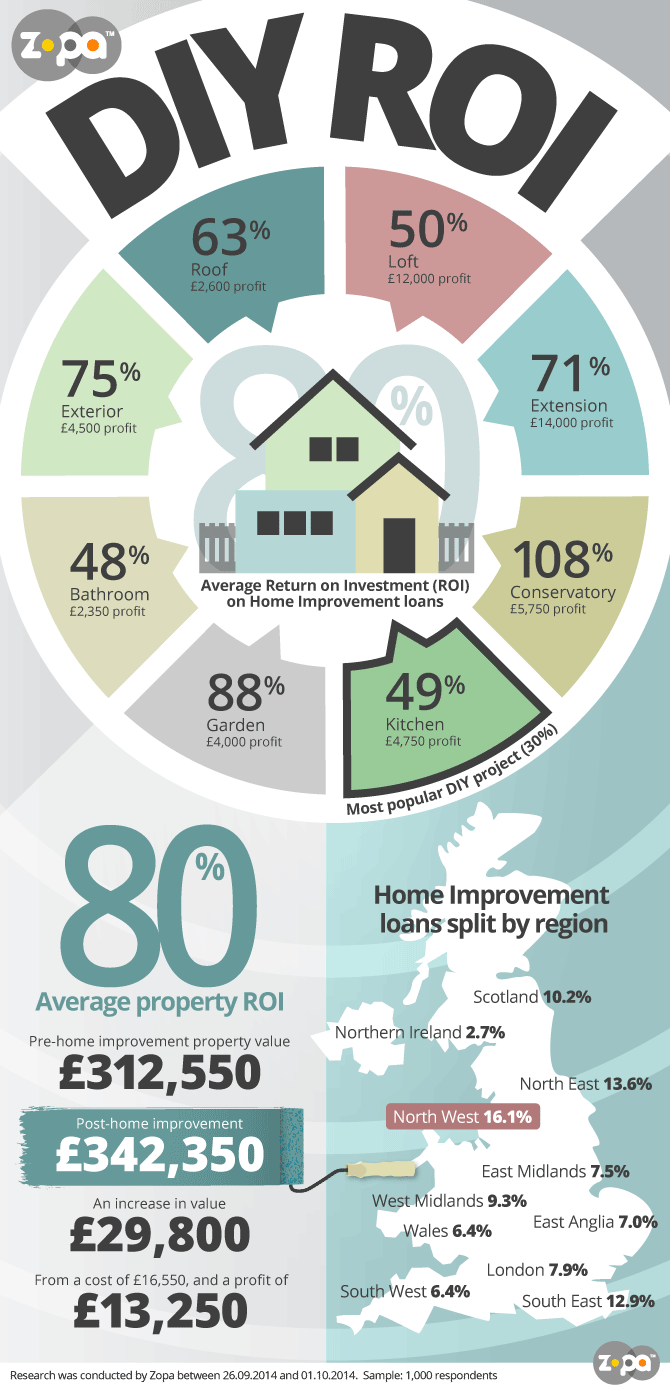 £30,000 (£29,879), whilst the average return on investment was estimated to be 80 per cent, based on the total amount spent by Zopa home owners that took out a home improvement loan.
Interestingly, we found that Kitchens are the most popular (30 per cent) part of the home to renovate although they provide less than 50 per cent ROI. In fact, our research showed that whilst an extension would yield the most profit, a conservatory would give you the most bang for your buck, offering 108 per cent return on investment. A bathroom renovation however, sunk to the bottom, only offering home owners a 48 per cent return and an average of £2,350 in profit.
Eight out of ten home owners (82 per cent) said that despite improving their homes, they were not planning on selling soon -- suggesting that the current housing market is putting home owners off moving, and instead adapting their current homes to their situations by adding value to their property for the mid-long term.
If you're thinking about doing up your home or looking for a loan for another reason, please make sure to visit Zopa for a free soft-search quote on a low-cost personal loan -- www.zopa.com/loans
Home Improvement Index
| Top Home Improvements | Return on Investment | Profit (Median) | Average Costs |
| --- | --- | --- | --- |
| 1. Conservatory | 108% | £5,750 | £5,300 |
| 2. Garden | 88% | £4,000 | £4,550 |
| 3. Exterior | 75% | £4,500 | £6,000 |
| 4. Extension | 71% | £14,000 | £19,750 |
| 5. Roof | 63% | £2,600 | £4,150 |
| 6. Floor carpets | 50% | £2,000 | £4,000 |
| 7. Loft | 50% | £12,000 | £24,600 |
| 8. Kitchen | 49% | £4,750 | £9,600 |
| 9. Bathroom | 48% | £2,350 | £4,900 |
Latest Articles
Zopa raises £75 million
Today we're proud to announce we have raised £75 million ($93m) to drive our next phase of growth, supporting our vision to…