FeelGood Cook-Along: Feed the flatmates falafel for under £8
We know that food is one of those topics that makes the nation feel good. And cooking it on a FeelGood budget? That's even better! So we've teamed up with professional chef Dan Borham to show you how to recreate your favourite restaurant eats at home. Grab your pots and pans and get ready to cook
A long time ago, I worked for a festival catering business over the summer. We did 12 festivals back-to-back mainly selling falafel wraps. I must have made literally tens of thousands of these bad boys and I'm still not bored.
Traditional falafel recipes use dried chickpeas that you have to soak for 24 hours then deshell. This can be a time-consuming process that I am sure most of you can do without. So today, I'll show you how to make falafel using tinned chickpeas. (If you do wish to soak your dried chickpeas overnight, just leave out the flour from the recipe for similar results.)
This dish is almost vegan, apart from some yoghurt in the flatbread recipe. This can easily be substituted for a vegan alternative or left out altogether in favour of a touch more oil.
This recipe can feed up to 3 people for under £8.
What you'll need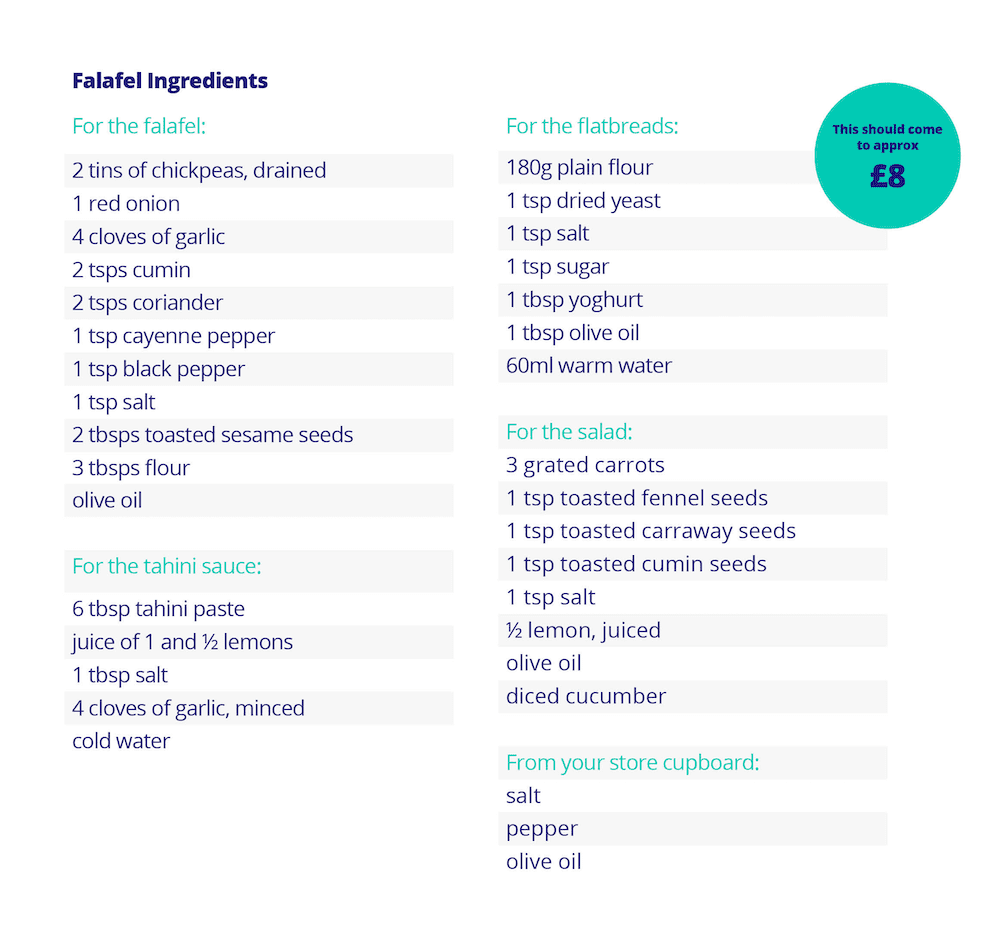 Ready to get started? Grab your pots and pans and follow along with the video or the recipe below.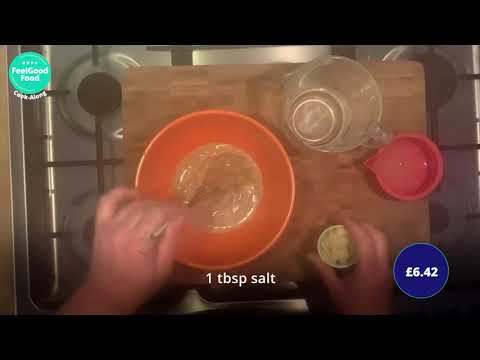 Method
Flatbread
Mix together the yeast, sugar and salt with the wet ingredients in a bowl. Add the flour and mix the ingredients together until a dough begins to form.
Tip out the dough onto a floured surface and knead for 5 minutes. You just need to move the dough around to activate the yeast and the glutens until it becomes, soft, smooth and stretchy.
Roll into a ball, place in a bowl, cover with a damp clean tea towel and leave to prove for 2 hours.
After 2 hours, it will have doubled in size. Knock back the air and divide into 3 or 4 pieces. Roll out flat on a floured surface until it's 2mm thick.
Turn a pan on to a high heat, add a tiny drop of oil, place the flatbread in the pan and cook the first side for 2 minutes. You will see lots of air bubbles rise in the dough.
After 2 minutes, it will be nicely browned. Flip the flatbread and cook for a further minute on the other side until the air bubbles blister.
Falafel
Place all of the ingredients into a bowl except the flour. Using either your hands, a potato masher or a combination of both, break up the chickpeas and mash the ingredients together until you have formed a rough paste. 
Now add the flour. It should stick together nicely, but still have decent sized chunks of chickpea. You can complete this process in a food blender but I prefer to do it by hand. If you do use a blender be careful not to take it too far and turn it into a puree.
Once the mixture is ready, roll into balls or patties. I am cooking these in a frying pan in 2 inches of oil so am going to roll them into patties. This will make roughly 12 falafel.
Place the falafel on a tray and then in the fridge.
When you're ready, heat 2 inches of oil in a frying pan at a medium heat
Fry in batches, don't over crowd the pan. Fry each side for 4 mins, 8 mins in total, or until a lovely golden brown colour. Put aside, you can keep in the oven at 100C if you lie to keep warm.
Tahini Sauce
Place the tahini in a bowl, add the salt, garlic and the lemon juice.
Begin to stir the mixture, adding the water slowly a bit at a time.
As the water is soaked up by the tahini, at first it will go really dry and hard to move around. Keep adding water and it will relax. Keep adding water until you have a silky-smooth mixture that will coat the back of a spoon. You don't want it to be too runny. Set aside.
To serve
For the carrot salad, simply mix together the ingredients in a bowl using a fork.
Put together your wrap I go with layers of carrot salad, cucumber, falafel, tahini sauce and a drop of my favourite chili sauce. Fold the bottom over and roll into a wrap. Voila
Latest Articles
Zopa raises £75 million
Today we're proud to announce we have raised £75 million ($93m) to drive our next phase of growth, supporting our vision to…