A step-by-step guide to an Insta-worthy kitchen update for less than £500
Don't you hate it when the size of your budget doesn't match the scale of your plans? But don't give up the dream just yet. We asked some home reno experts how you can take a different approach to renovating to get maximum impact on minimal budget. First up, Nikki from @thisE17life, shows how she transformed two focal points of her new holiday let for under £500
The kitchen is the heart of a house, even if you're just staying there for a few days. So Nikki knew that the kitchen at Pebbles needed a space that felt calm, a little bit luxe and would make her guests feel right at home.!
So she turned this cluttered area...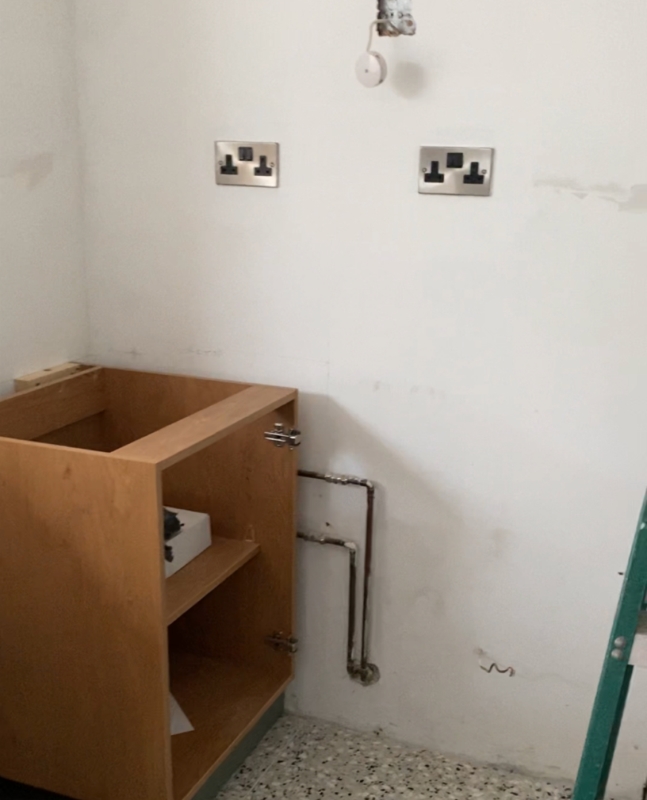 ... into the focal point of her kitchen.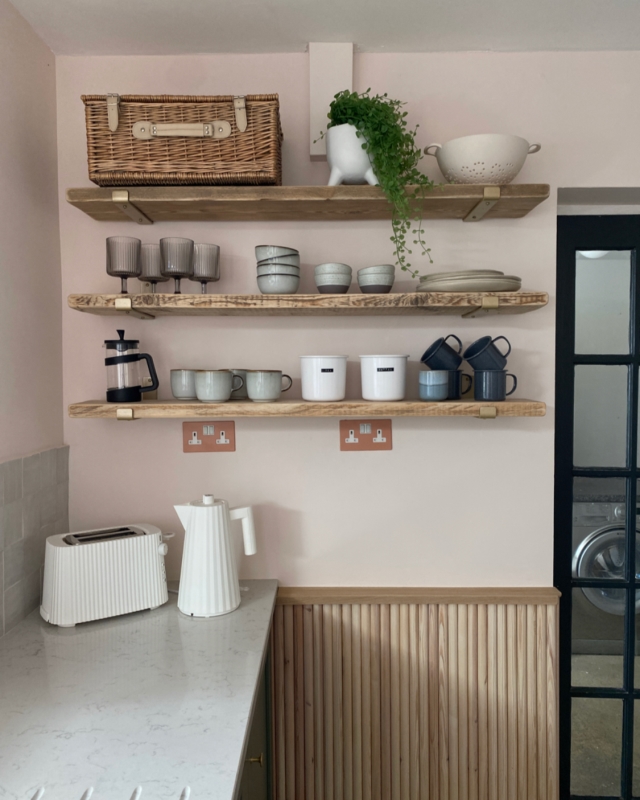 Here's how:
1) First the area got a much-needed lick of paint to brighten it up. Nikki used Lick Emulsion (Shade: 01) Cost: £38
2) Then she boxed in the unsightly pipes. She glued half-rounded mouldings onto MDF and then lightened them with a wood dye. This was great as it also created a design feature. Timber - £75, Glue and nails - £15, Colron Wood Dye £10. Cost: £100
3) Adding an oak veneer plywood shelf created a space to display some of her crockery and ornaments, with the flexibility to be regularly updated. She spray-painted the brackets gold to match the rest of the kitchen.
Shelves and brackets, £180. Rust-oleum spray paint - £10 Cost: £190
4) The chrome sockets were also changed so that they were more fitting with the colour scheme. Small changes like this can make a big difference to the feel of a room. She used Dowsing and Reynolds sockets. Cost: £60
Nikki's kitchen corner transformation is practical and pretty - our favourite combination! If you wanted to create something similar yourself, it would cost less than £400 leaving you a bit extra to get in some helpers if there was anything you weren't confident doing yourself.
Spruce up the space under the stairs (£138)
The staircase is the first thing guests see when they walk into the house, so Nikki also wanted it to have a welcoming wow factor as they kick off their holiday. She added the bannister as a separate project, but still wanted to tidy up the space under the stairs.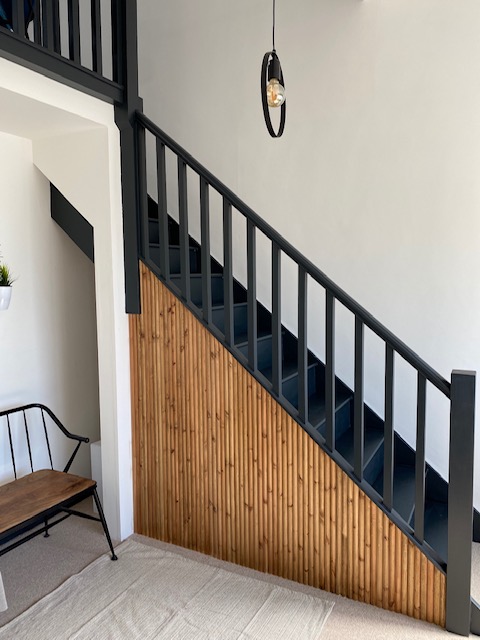 Here's what she did:
1) First she boxed in the space under the stairs.Then she added some texture with the same wood panelling she used in her kitchen. She did this by gluing some half-rounded timber mouldings to some MDF and then installing this under the stairs. Timber - £75, Glue and nails - £15 Cost: £90
2) She then stained the wood using two coats of Colron Wood Dye in Jacobean Dark Oak which she applied with a microfibre cloth. Cost: £10
3) Then gave the stairs a lick of dark paint to contrast the white walls. She used Lick Emulsion - Shade: 02. Cost: £38