How do I withdraw money from my Zopa holding account?
Updated 1 year ago
To withdraw from your holding account, all you need to do is follow these steps.
Open your investment

Select the 'Access money' button

Click 'Withdraw from holding account'
Select 'Make a single withdrawal', then enter the amount to be withdrawn on the next screen.

Once done, your money should arrive back with you within 3 to 5 working days.
You will also see an option to set up an automatic withdrawal.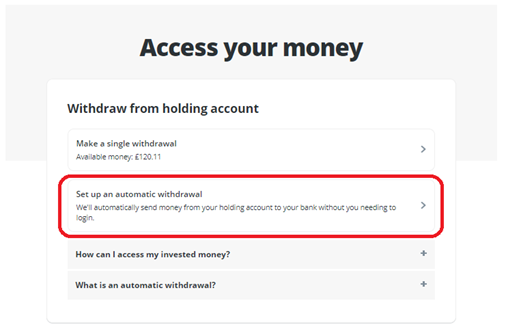 Automatic withdrawals are a simple way for you to send money from your Zopa holding account to your bank account, without having to log in and go through the manual process each time. You may find this useful if you are looking to gradually wind down your investment while limiting the amount of idle money sitting in your holding account. Learn more about automatic withdrawals.